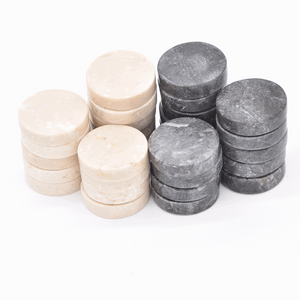 CUSTOMIZE YOUR BOARD
If you wish to personally tailor your backgammon then we are happy to assist in creating your one of a kind design. Options include choosing the leather color combinations, laser monogrammed rolling cups, monogrammed checkers, etc….
learn more about customize
Guaranteed to Impress
Gift Wrapping
Your Bos Backgammon set comes in its own box and includes a drawstring bag.If the order is a gift, let us know so we can beautifully gift wrap it and we will remove any paperwork stating the price.
In addition you can write a personal note at checkout.
Worldwide Delivery
Free delivery on all our products in the Netherlands.
Free worldwide shipping of any purchase of more than 200 euro
All displayed prices include VAT.
If your shipping location is outside Europe, the price shown at checkout will exclude VAT
Focused on Positive Change
Every Bos Backgammon is handmade by our highly valued team of skilled craftspeople. We embrace our production team as our family and treat them with the utmost respect and fairness, Bos Backgammon uses only non-polluting environmentally friendly materials, setting Next-Generation positive Impact standards.